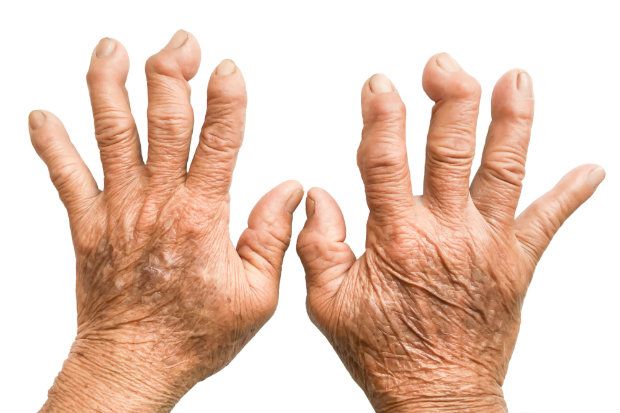 Rheumatoid arthritis (RA) is an autoimmune disease that causes chronic inflammation of the joints. While inflammation of the tissue around the joints and inflammatory arthritis are characteristic features of rheumatoid arthritis, the disease can also cause inflammation and injury in other organs in the body.
The disease usually begins gradually with fatigue, morning stiffness (lasting more than one hour), widespread muscle aches, loss of appetite, and weakness. Eventually, joint pain appears. When the joint is not used for a while, it can become warm, tender, and stiff. When the lining of the joint (synovium) becomes inflamed, it gives off more fluid and the joint becomes swollen. Joint pain is often felt on both sides of the body, and may affect the wrist, knees, elbows, fingers, toes, ankle or neck.
Because it can affect multiple other organs of the body, rheumatoid arthritis is referred to as a systemic illness and is sometimes called rheumatoid disease & is a progressive illness that has the potential to cause joint destruction and functional disability.
Rheumatoid arthritis can also produce diffuse inflammation in the lungs, membrane around the heart (pericardium), the membranes of the lung (pleura), and white of the eye (sclera), and also nodular lesions, most common in subcutaneous tissue. Although the cause of rheumatoid arthritis is unknown, autoimmunity plays a pivotal role in both its chronicity and progression.
In some patients with rheumatoid arthritis, chronic inflammation leads to the destruction of the cartilage, bone, and ligaments, causing deformity of the joints. Damage to the joints can occur early in the disease and be progressive. Moreover, studies have shown that the progressive damage to the joints does not necessarily correlate with the degree of pain, stiffness, or swelling present in the joints.
Most people with RA experience intermittent bouts of intense disease activity, called flares. In some people the disease is continuously active and gets worse over time. Others enjoy long periods of remission – no disease activity or symptoms at all. The symptoms and course of rheumatoid arthritis vary from person to person and can change on a daily basis.
About 1% of the world's population is afflicted by rheumatoid arthritis, women three times more often than men. The disease occurs in all ethnic groups and in every part of the world. It is most likely to strike people 30-50 years of age, but it can occur in children, teenagers, and elderly people. A similar disease affecting young people is known as juvenile rheumatoid arthritis.
Symptoms
Rheumatoid arthritis usually inflames multiple joints in a symmetrical pattern (both sides of the body affected). Early symptoms may be subtle, usually with only minor joint pain, stiffness, and fatigue. Wrists, fingers, knees, feet, and ankles are the most commonly affected.
Joint symptoms may include:
Morning stiffness, which lasts more than 1 hour, is common. Joints may feel warm, tender, and stiff when not used for an hour.
Joint pain is often felt on the same joint on both sides of the body.
Over time, joints may lose their range of motion and may become deformed.
Other symptoms include:
Chest pain when taking a breath (pleurisy)
Dry eyes and mouth (Sjogren syndrome)
Eye burning, itching, and discharge
Nodules under the skin (usually a sign of more severe disease)
Numbness, tingling, or burning in the hands and feet
Sleep difficulties